SUPPLEMENTARY: The contest is over. With a score of 26.150 Points has Darrin earned the highest score in Vectrexians. Congratulations!
From 1. January to 1. February at the Games competition "Galaxian Legacy" instead of. The competition is organized by Rob Maerz, Author and operator of the online magazine "Retrocade Magazine" organized. Played the game "Galaxian" on various retro consoles, including the Atari 2600, NES and the Vectrex.
is on the Vectrex Vectrexians, of the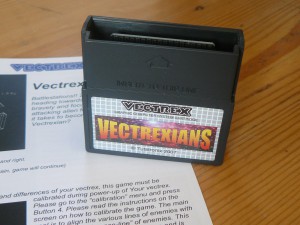 in 2007 published for the Vectrex Galaxian clone, play. As in all Galaxian reactions of the players in Vectrexians fighting groups of strangers, which are somewhat reminiscent of insects. The aliens attack the player's spaceship to individually or in combination and bombard it. Im Video-Review von Classic Game Room get a good impression of the game.
Who should not be in possession of Vectrexians, can the game directly from the Developers Kristof Tuts For 40 EUR (plus. 6,50 EUR Shipping to Germany) to order. The price of 40 EUR seems high, therefore a few words: The many hours carefully converted and very well playable Vectrexians comes as play module in a box, Recently manual and with film (Overlay). The film was printed by screen printing on two sides and has the highest print quality. Finally you with buying Vectrexians supports the development of retro titles. Bottom line, a good investment.
Learn more about the Galaxian Competition can be found at Forum Retrocade Magazines. Registering in the English forum, participation in the competition are as always free.