Big Blue – Big Blue was the thrilling French movie of the year 1988.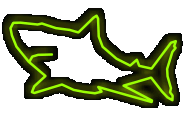 Also under water and not less exciting in the recently completed new Vectrex title "Big Blue" to. is the player in Big Blue object, to ertauchen as divers a single key or treasure on the seabed.
Beginning 2014 Chris Parsons has made animated by his son because, to develop an underwater game. Initially swam only a diver and a fish and the title was not yet clear. Then more and more game elements were added over a period of two years: Hedge, a boat and an island, lie on the upstream different dive resorts.
After about 2,5 Years Big Blue now completed – namely as a complete version with box, Instructions and Cartridge. Two things make Big Blue for a special Vectrex title: The venue "submerged" and the lack of shooting. Chris has deliberately dispensed with harpoons or other weapons, thus creating an absolutely family friendly game. I am looking forward to it, to play with my daughter for the first time – the perfect happiness is only likely to mermaids mode missing.
Big Blue has a circulation of 100 Copies and can Chris Website http://www.vectorrepublic.co.uk/ be ordered.