SUPPLEMENTARY: The AtariVox + can now at "the.golden.ax" be ordered. Now the prices for AtariVox + are known:
AtariVox +: $29,95 (that. 22,80 EUR)
Connection cable for Atari 2600: No additional cables required
Connection cable for Atari 7800: $4 (that. 3,11 EUR)
Connection cable for Vectrex: $8 (that. 6,20 EUR)
worldwide shipping: $12,10 (that. 9,40 EUR)
With a AtariVox +, Connecting cable for the Vectrex, Shipping and 19% Import VAT of 19% one is taken on ca. 47 EUR. All EUR-prices are based on the current exchange rate.
started on 12. March 2013:
The AtariVox +, a hardware adapter for voice- and sound output for the Vectrex, die Atari 2600 and 7800 will be available for purchase soon commercially.
Already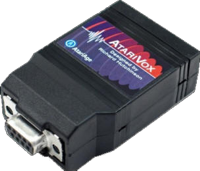 In the year 2002 would have Richard Hutchinson the VecVoice developed, a hardware option for the Vectrex for easy output of sound and especially also language. The VecVoice is connected to the Vectrex instead of the second controller and is from there the power and the commands for voice- and sound output. 2004 Then came the VecVox, a development of VecVoice, which could also output sounds next Language, on the market. The VecVoice but only a short time was available.
2007 asked Richard Hutchinson then the AtariVox in front, which for the legendary Atari consoles 2600 and 7800 was designed. Finally, the end was 2008 from AtariVox the AtariVox +, which can be connected to both the Vectrex and the Atari consoles and is fully compatible with VecVoice. Core of AtariVox + forms a chip to chip, via dip switches, one of the modes VecVoice, VecVox or AtariVox be set.
The AtariVox + was 2007 Although fully developed, for various reasons, but is only now a circulation of AtariVox + "the.golden.ax" by AtariAge users in preparation. Pre for AtariVox + as Forenbeitrag, Board Mail (PM) or by E-mail adopted. More information in English Forum of AtariAge.
Many homebrew games like Verzerk, Protector, Y.A.S.I, V-Hockey, Shifted, ColourClash, Debris and Debris Revisited support VecVox and provide additional sound effects, Music and language. For collectors and players of Vectrex homebrew games the acquisition of AtariVox + a must should be.
It should be noted yet, that AtariVox + itself no built-in speaker has. To hear, one closes with a standard 3.5mm jack on either a headset or a passive or active speaker.