Recently I had a Summary of current Vectrex developers given. Out of nowhere, now plunges previously unknown Vectrex developers on. "Nagoya Attack" is the beta version of its first Vectrex game.
Chris Malcom is the new name under the Vectrex developers. Under the username "KidQuaalude" Chris on AtariAge on his new game Nagoya Attack alerted.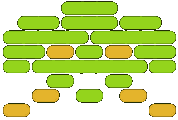 Nagoya Attack is a clone of the classic Space Invaders. In Space Invaders, the father of all Shooters (engl. Shoot 'em up or Shmup) defended the player with his spaceship, the Earth against alien invaders. The invaders are marching here in waves of attack on the earth. In Nagoya Attack it be 16 its waves, reveals Chris Malcolm. Unlike the original, the enemies do not shoot and it goes "just" therefore, fend off the rapid invasion, as in some shaky Video of Nagoya Attack you can see. That makes Nagoya Attack than another Space Invaders clone beside Vector Vaders and Y * A * S * I interesting. While playing the player will hear music and sound effects, What's on the Vectrex the exception. VecVoice support is in preparation.
As the British developer probably comes in the name Nagoya Attack, I think. Nagoya, that sounds vaguely familiar and Asia. Nagoya is located in Japan and is currently Japan's fourth largest city, I read on Wikipedia. The correct answer is finally a post on AtariAge: With "Nagoya Attack" (Also Nagoya or Death Row Technique) is a technique in Space Invaders referred, in exploiting, that the shots of the enemies are gray and not fatal directly after firing.
Nagoya Attack is currently in beta testing, a date for the final version is not yet known. The 7Kbyte large ROM (Binary) the beta version of Nagoya Attack has Chris in his forum post attached. With an emulator, a VecFlash or VecMulti can it so try it. Chris is looking forward to feedback on the game in AtariAge forum.