at "Vectrex Regeneration" I think somehow on vacation and Wellness. This developed by Rantmedia and today released app has but little to do: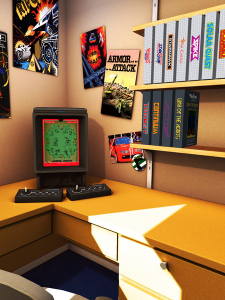 Vectrex Regeneration is essentially an emulator for IOS, allows playing Vectrex games on the iPhone or iPad. To the emulator around the player a sophisticated foil made user interface is offered: The player can be in a virtual room (see screenshot on the left) look around and pick up the game title by tapping off the shelf and start playing. High Scores are displayed on a chalkboard, also made nice and appealing. Im Video of Rantmedia you can see that everything was very good.
The app can be found in iTunes easily under the name "Vectrex Regeneration" to download. The app itself is free and includes Minestorm and games War of the Robots, Vector 21 and Continuum of George Pelonis. The Mega Pack with the original titles Armor Attack, Bedlam, Berzerk, Blitz!, Cosmic Chasm, Fortress Of Narzod, Heads Up, Hyper Chase, Pole Position, Rip Off, Scramble, Solar Quest, Spike, Star Castle, Star Ship, Star Hawk and Web Wars suggests again with 6,99 USD (that. 5,40 EUR) to book.
How well Vectrex Regeneration on the iPhone, iPad or even on an iPad with iCade plays I can not say for lack of equipment. But the iPhone is likely to be small because of the control. Note, that an iPhone 4 or new or. iPad 2 or later is required.
Interestingly, the project is but all and for Vectrex lovers with iPhone or iPad is to download and try out the free app with Minestorm almost a must. An implementation for Android is scheduled according to the manufacturer Rantmedia. Then I'll be there…