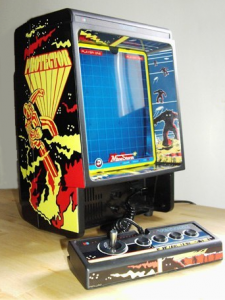 For wrapping one takes Geschenkpapier. Usually. The Vectrex consoles the pack down soon differently: "Vectrex Wraps" is a project of Michael Flowers. A Vectrex Wrap is a set of stickers, whose size and design are precisely matched to the Vectrex and be applied to the console and the joystick. This one turned into the black Nu and a little sad ausschau Journeyman in a colorful, conspicuous figure. "Wrap" way, comes from English and means as much as "wrap up" or "packaging". One or the other Vectrex collectors introduce themselves with words like "sticker" the hackles, but no fear: The stickers can be removed without residue again, also a multiple attaching and again removing be trouble.
Already in 2007 Michele Fiori had such a Wrap "Protector/Y.A.S.I." developed, shown here right when affixed. In Michele Fioris Galerie is in many pictures the development of this wraps shown, at that time in an edition of 90 Piece was produced.
Michele Fiori won the project start 2012 revisited, currently a total of three new designs in work: Protector, Y.A.S.I and Scramble will be available soon. On his website he shows under "News" Draft new Wraps. The designs sit here on the original machines in arcades, also Defender (Protector), Space Invaders (Y.A.S.I.) and Scramble.
Who has taken a liking to the wraps and also want to paste and beautify his Vectrex, can a set Vectrex Wrap for 30 Dollar (that. 23 EUR) reserve. Given a formless E-Mail an Michele Fiori send.